Newsletters
COOL WEATHER FAILED TO DAMPEN MARKET ACTIVITY
Fri September 12, 2014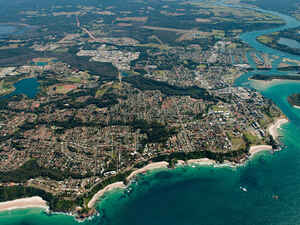 Houses selling before the marketing campaign begins, rental demand increasing during the typically quieter winter months and a growing number of people relocating to the area are all definitive signs of strength for the local property market, says Chris Koch, Principal of Laing+Simmons Port Macquarie.
According to Mr Koch, property market activity in the Port Macquarie region has bucked the mid-year seasonal cooling trend, with transactions ticking over at a steady rate since the beginning of spring in 2013.
"Typically winter is the quieter period but this has certainly not been the case this year," Mr Koch explains. "With interest rates remaining low and no imminent rises predicted, both owner-occupiers and investors are out in force. Frustrated buyers are missing out on the limited stock available so, in the current climate, there appears no reason for vendors weighing up a sale to wait until summer."
"Demand is robust right now and waiting for the warmer months, when more stock traditionally becomes available, might mean vendors face extra competition from other properties that come to market," he says.
"Laing+Simmons Port Macquarie sold 29 properties in September of last year and have achieved similar impressive sales in each month since. The average number of days properties are staying on the market has declined in this time," Mr Koch says.
"We forecast demand to remain steady going forward as some interesting trends emerge in the local market. For instance, we've seen a growing number of developers building granny flats for new properties, while investors are increasingly buying larger homes with multiple bedrooms with a view to letting the rooms on an individual basis," Mr Koch says.
"From a leasing perspective, vacancy remains very tight, underpinning strong rentals and contributing to rental growth. There has been no noticeable rise in vacancy rate in the winter months this year as tenant demand remains resilient."
"We are also seeing a steady supply of Sydney buyers who are achieving amazing sale prices for their properties. These people not only find Port Macquarie a great place to relocate and live, they also see the market as offering very good value for money compared to Sydney."
"Additionally, it's interesting to see a new focus from investors around the Innes Lake area, as the hospital expansion and Charles Sturt University building progresses to draw activity to the surrounding areas."
"All in all, the current market conditions should appeal to both buyers and vendors. There are some fantastic prices being achieved by agents with the right blend of experience and know-how, while buyers can still see value in Port Macquarie compared to other areas of New South Wales."
"As new infrastructure comes online and demand remains strong accordingly, Port Macquarie presents as a standout in terms of long term property price growth as well as attractive rental returns," Mr Koch said.
However whilst the property market is buoyant, he cautions vendors about being complacent when selecting a selling agent for their property.
"There are still around 450 properties for sale in Port Macquarie. Buyers have unprecedented access these days to industry resources and information, and as a result are more educated about the marketplace," Mr Koch explains.
"I strongly recommend to those considering selling their property that they take the time to thoroughly acquaint themselves on the agent's service offering. It's the combination of an extensive market reach, a comprehensive advertising campaign across all mediums, consolidated by a dynamic sales team that achieves the best results."
"Of course, there are obvious advantages of selecting an agent with the proven track record, experience and access to a large database of genuinely interested buyers. You want to make sure you are getting every opportunity to have as many buyers as possible view your property," he said.
For further information or advice regarding the current real estate market, contact Chris Koch on 0427 831 100.